With people holding their beliefs and ideas as close as they hold their kids; it is apparent that our beliefs and ideas shape the way we view things. With this project, we have studied our own ideological identities. We looked at how we come to our political stances. We looked deeply into political discourse, and will work to try to deconstruct American society's ideology strong base. We started by examining, and deconstructing our own ideologies while being willing to be disturbed, and have our ideas challenged by the ideas and views of others.

Inside this project, we have studied the are of rhetoric - an anchor in western humanities. Even though rhetoric is a confusion, complex maze of techniques, it is easily summed up as symbolic expression of ideas in order to change the perspectives of the audience. It is a major key in creating effective arguments, but before it comes into play, you need to understand the point you are arguing. You must understand it a very deep, complex way - inside-out and outside-in. So, in this project, we had dug deep into a diverse range of controversial topics within America before we constructed our own rhetorical discourse, which reflects our own views. We did not do this to learn how to defend our positions, but to explain, and show the complexity of our understandings through building common grounds with the audience.

Powered by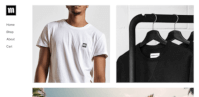 Create your own unique website with customizable templates.